IntelliTurn
Free Vehicle Turning Simulation (Swept path analysis) for IntelliCAD

IntelliTurn is an out of process software and supports CAD systems based on IntelliCAD version 7 and 8

Latest update: 2016-04-09 Build 1.0.3
Vehicle Turning Simulation (Swept path analysis). Build your own vehicles and do analysis in the drawing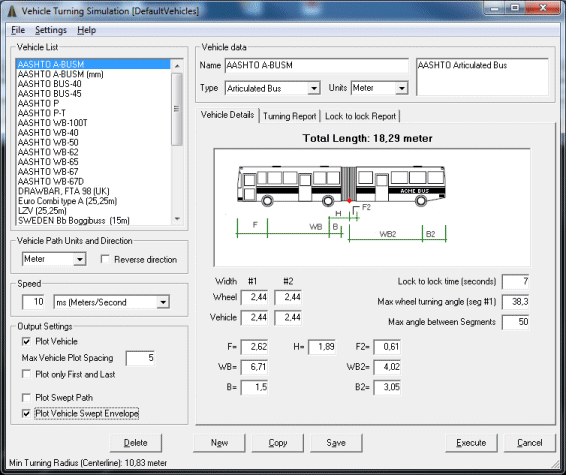 Turning Report

visualizes

wheel and element angles.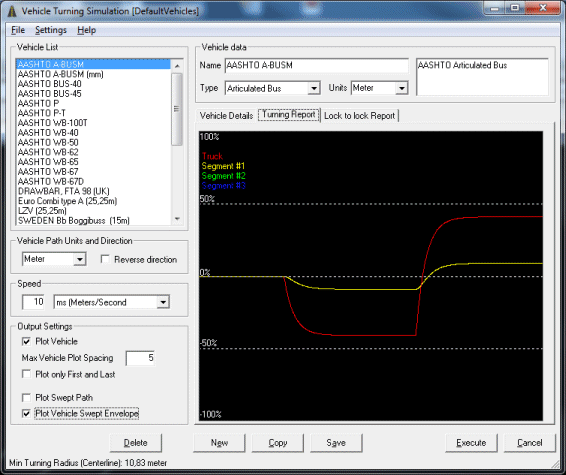 Lock to lock Report

visualizes

speed.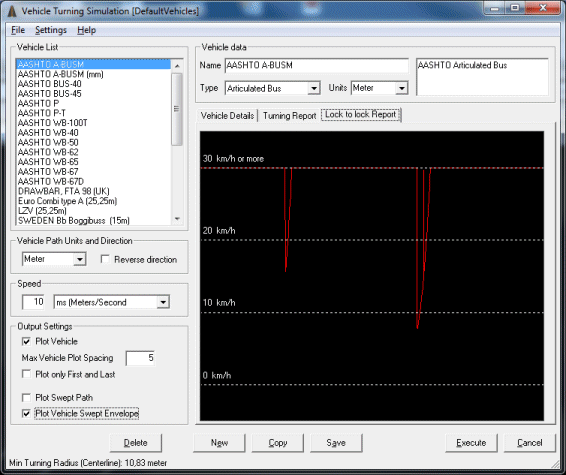 Sample of drawing output.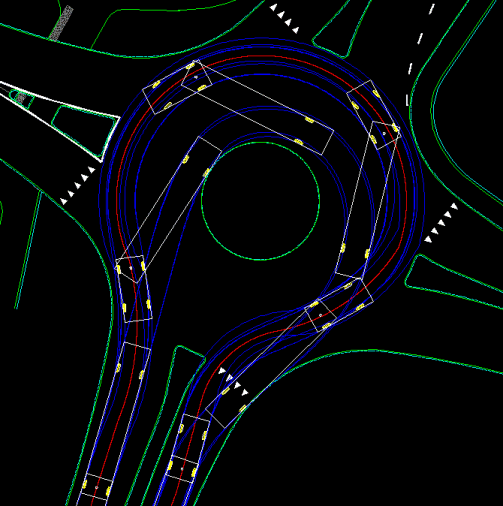 ---

Windows Vista users!
Problems running BricsTurn? Probably it's Vista's UAC dabbling, try to launch IntelliTurn as an Administrator. Simply find the shortcut for IntelliTurn, right click on it then in the Compatibility tab select the option that say: Run this program as an Administrator.
If you are using AutoCAD you will find the Vehicle Turning and much more in CadTools
.
The Vehicle Turning is also available as a freeware for Microstation V8.
MSTurn
and Bricscad BricsTurn
Download (ca
2,5
Mb), Last updated 20
16-03-12 Build 1
.
0.2


Update for IntelliTurn (ca

0,6

Mb), Last updated 2016-03-24 Build 1.0.2
Download update only. If you already installed
Intelli
Turn

and only need the update, use

this link

.



Additional downloads
Default Vehicle library (metric)
Vehicle samples in metric units
Default Vehicle library (imperial, 2013-05-13) Vehicle samples in imperial units




IntelliTurn/BricsTurn/CadTools Forum
Online discussion site for CadTools, MSTurn, BricsTurn and IntelliTurn.
---
Revision history
Latest update (20
16
-
04-
09
Build
1.0.3)

Fixed bug when saving vehicles, some values didn't save

.

2016-03-12 Build 1.0.1
Fixed bug when saving some types of vehicles, values in datafiels where changed when saving.

2015-03-24 Build 1.0.1

Fixed DPI
scaling by changing application font
.